West Coast Wilderness Lodge
Establishment and lodging at 6649 Maple Road, Egmont, BC V0N 1N0, Canada. Here you will find detailed information about West Coast Wilderness Lodge: address, phone, fax, opening hours, customer reviews, photos, directions and more.
Rating
1 /5
Based on 1 reviews
Photos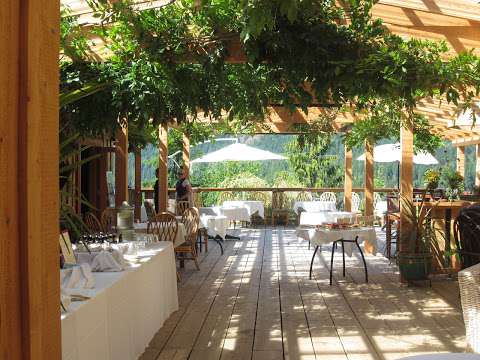 Reviews of West Coast Wilderness Lodge
Randal Wolloschuk Added 2017-11-18

★ ☆ ☆ ☆ ☆

I would like to advise tourists who would like to visit this place that it is not as advertised. My wife and I were there to celebrate our 27th anniversary, our forest view was a view of overgrown trees into our small deck with a room that had cracked windows tiles falling off shower, smoke alarm removed from ceiling and soiled and stained carpets in hallways. That was to be overlooked except we suffered food poisoning after eating dinner in there dinning room. We over heard the table next to us sending back glasses of water with things sitting in bottom of there glasses and lipstick and residue on there coffee cups being sent back. Food was average @ best prior to my wife becoming violently ill in bathroom after dinner. With no phones in room and no way to contact desk I went to office @ 10 @ nite and there was nobody around to get help to clean vomit on bathroom floor as my wife could not make it to toilet bowl in time so I spent the next hour wiping vomit up with towels and toilet paper and throwing them out onto deck. Next morning I went to front desk and explained what had happened the night before and I receive an " I am sorry" from the front desk, I asked to speak to manager and was told he was not around, I guess he did not care about what happened to us as it has been 2 days and have not had a response, appears he does not care about our situation. I said that I wanted our money back for dinner and was told it would be back on my card and they have not done that yet, once again lack of consideration or care. We will never go back as we live on the Coast and recommend that others should consider going to Back Eddy resort next door as we have found and heard this is a much superior dining facility and accommodations. We work hard for our money and were not treated like we were a valued customer so you should consider our experience and would not want this to happen to others. We did report this place to Vancouver Coastal Health who had been there b4 and are going up to do a health inspection of this facility.
About west-coast-wilderness-lodge.business.site
Share this page
Additional actions
Today's weather in Egmont
01:00
18 ℃ 1014 hPa 59 % 1 m/s 04:00
16 ℃ 1017 hPa 61 % 1 m/s 07:00
14 ℃ 1019 hPa 66 % 1 m/s 10:00
19 ℃ 1019 hPa 55 % 1 m/s 13:00
23 ℃ 1019 hPa 49 % 2 m/s 16:00
26 ℃ 1017 hPa 44 % 2 m/s 19:00
27 ℃ 1017 hPa 44 % 2 m/s 22:00
23 ℃ 1017 hPa 62 % 1 m/s